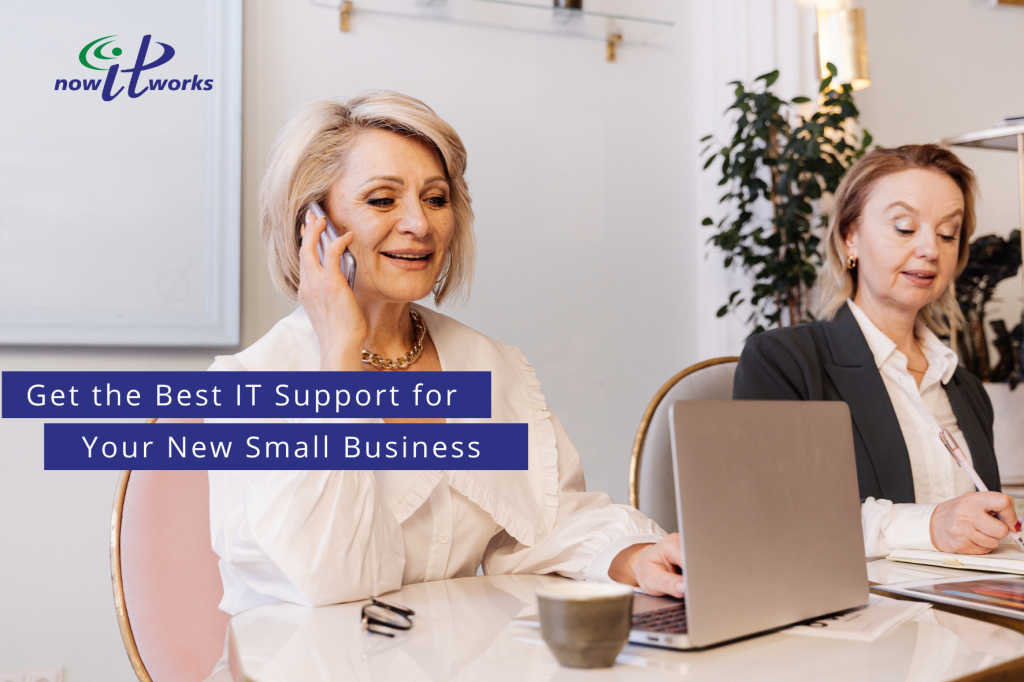 Start Your New Business on the Right IT Path
Perhaps you as an entrepreneur you are starting a new business and are wondering exactly what sort of information technology you will need.
Or you might be coming from a corporate setting in which technology was handled at a high level by an in-house team.
Either way, you're faced with deciding which technologies (hardware and software) you need and how to acquire or implement them. Here are some considerations to get you started.
Cloud Computing
Businesses are increasingly shifting from software applications installed on in-house computers to cloud-based computing. This shift is occurring for two reasons:
the convenience of being able to access an application from anywhere at any time, and
the enhanced cybersecurity that operating in the cloud provides.
If you or your employees work remotely from home or outside your headquarters, cloud-based operations are essential. To be sure, some cloud-based applications provide somewhat different looks and functionality. So, you need to be sure that the cloud version will do everything that you need. But that gap is rapidly closing.
The cloud also provides better security against data loss and ransomware attacks. The reason is that data files can be stored and backed up in widely different locations. Your business is therefore much less vulnerable to catastrophic disruption due to natural or human causes. (For more on cloud-based operations, check out our recent interview, What Is the Cloud?)
Customer Relationship Management (CRM)
Regardless of your kind of business, you will need to communicate with prospective and current clients. To manage that, especially as your business grows, you will need a robust CRM program. The one you select should be able to handle the following tasks:
Customer contact maintenance that records every touch
Automation throughout the CRM to minimize manual data entry
Calendar and appointment management
Track sales/cultivation pipeline
Analytics and reports that are suitable for your business
Integration with other business software (which integrations are most important depends on how you do business)
Some CRMs also include project management capability (Monday.com). Others feature email generation and campaign management, landing page creation, and/or payment processing.
Generally speaking, the more features you need, the higher the cost. Nearly all CRMs are cloud-based—a highly desirable feature that keeps the software up to date and maximizes security. Ease of use might also be a factor in your decision, since some CRMs are so rich in features that they entail a steep learning curve.
Secure, Convenient Payment Methods
Whether providing a service or a product, small businesses need to get paid. Selecting a payment vendor who provides secure and convenient payment methods—in person or online—is crucial.
In truth, your clients will care only about two features of any payment method. First, it should be easy to use. Second, it should be absolutely secure in protecting their personal and financial information.
We would add one more consideration: your payment method should integrate smoothly with other software that you use. For example, it should integrate with your order processing software, your accounting software, your CRM, and your bank.
Communication Systems
All businesses need to communicate with prospective and current clients and internally with their employees. Easy, secure, and effective communication is vital for sales and marketing, for provision of services or products, and for keeping staff informed and able to collaborate.
Minimally, you will need to have the ability to communicate via email, social media, your website, and internally.
Regarding email, you will need an application (such as MS Outlook or Gmail) to send and receive messages securely. You should also have a reliable method for storing and backing up email messages (in some cases, this is legally required).
Email is also a major marketing tool. Most businesses purchase services from vendors (such as MailChimp or Constant Contact) to run email marketing campaigns and to stay in touch with current and prospective clients. But some CRMs (Keap, HubSpot) provide email capability themselves.
Further, nearly all small businesses use social media (Instagram, Facebook, Tik Tok, Twitter, LinkedIn, etc.) to promote their product or service. Producing regular content and interacting with others through social media can consume much time and energy. Using an application that integrates social media messaging across different platforms will help a lot.
While some small businesses use social media, instead of a website, to communicate with the public, it is still true that most businesses maintain a website as well. The best websites are well designed, easy to navigate, and full of a variety of written and video content. Most important, provide exactly the information that visitors seek. Keeping a website up to date and functioning depends on where it is hosted, the website platform that is used, and knowledgeable persons who are trained and available to do the work.
Project Management
Most businesses need technology to help with project management. This category encompasses different types of applications:
Enabling and tracking workflows and collaboration
Internal communications that integrate with workflow and collaboration applications
Customer relationship management that integrates with delivery of services or products
Inventory management (where necessary)
Basically, automating the process of tracking who is doing what and when helps to coordinate both planning and execution. Such tracking is not intended just to check up on whether employees are working hard. Rather, it aims to make their collaboration with one another easier and more efficient. And that, in turn, results in better customer service.
Integration
In all of these and other way in which technology helps small businesses, the most important consideration is integration. That is, to the extent possible, the various applications should work well together in a secure environment.
For example, when client information is entered into the CRM application, that information is updated in other applications as appropriate. Or when a service or project milestone has been completed, all involved are automatically informed.
With the number and variety of business applications on the market, it is impossible for a small business owner to be informed and up to date about what will work best. This is why it is advisable to work strategically with a managed service provider who has the expertise to help devise a technology package that best fits your business.
Find out more or schedule a time to talk below.