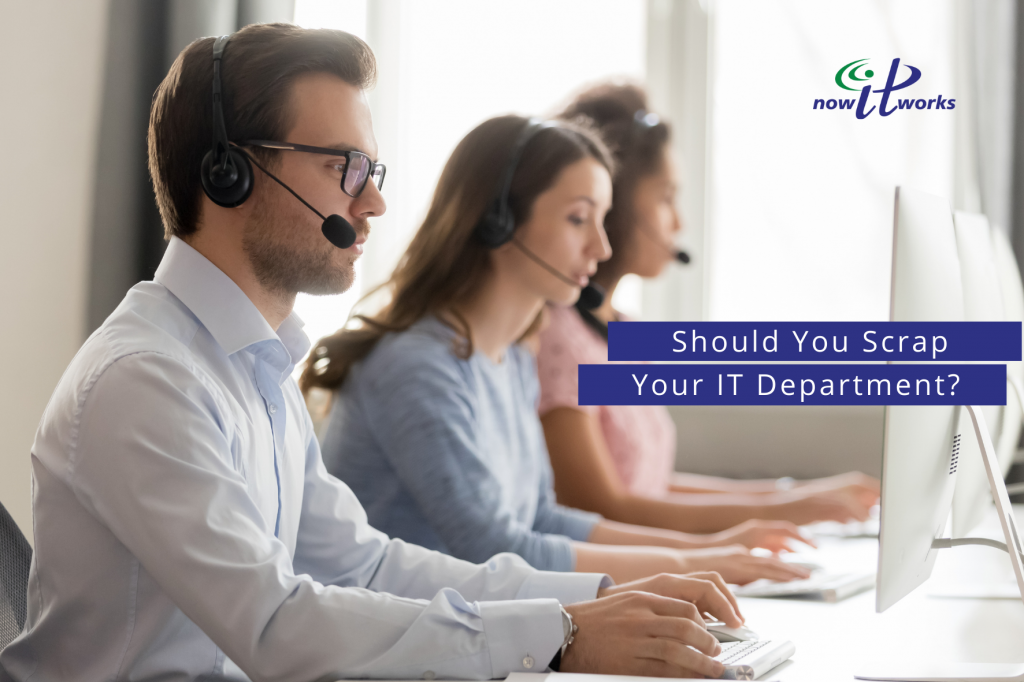 The Skinny on IT Departments
Whether you should scrap your IT department has become a hot question in recent months. At bottom, it goes to the heart of how to manage your business technology.
In a recent Wall Street Journal article, It's Time to Get Rid of the IT Department, Joe Peppard ignited the latest version of the controversy. He basically argues that your business's success doesn't depend on the usual way that IT departments measure theirs—deploying technology on time, on budget, and meeting the specs.
Further, he says that most IT departments operate in a silo, having little contact with sales and other important functions. Finally, there's a mindset gap: most IT people work at their jobs because they love tech. They don't care much how technology plays out for sales or marketing teams.
So, what's the solution? Peppard's recommends "decentralizing" IT by moving tech people to other departments where they can actually help their business's team. In addition, he says that a few "guardrails" or regulations for IT are necessary—to protect sensitive data.
As you might guess, online backlash erupted immediately for several days. Many objections misinterpreted Peppard's main argument or missed it altogether. Rather than join that chorus, let's explore some of the strategic issues in light of the changing IT environment.
Remote Managed IT Functions
In truth, many of the tasks normally handled by an in-house IT department can be fulfilled by remote managed IT service providers.
Networking – The concept of an office or business network has shifted from a physical location to include remote working. A business's "network" now includes access to a business's information and communications from nearly anywhere.
Identity Management – Making sure that only authorized persons can login to a business's data and applications is the main challenge. Today, tools such as high-level password management, MFA, and other measures can get the job done.
Updating Software – Keeping applications up to date requires no intervention for software that remains in the cloud and is accessed by subscription. Updating software that is downloaded and installed on a computer can be automated or managed remotely.
Maintaining Hardware – Installing new hardware (computers, desk phones, printers) and maintaining it can still be a function for an IT department. However, managed IT providers often manage these tasks remotely.
So where does that leave your small business?
If you don't have an IT department, you probably shouldn't fret about creating one in-house. Small businesses, especially, can benefit from the current situation. By outsourcing necessary IT functions, SMBs can actually receive better support—while also achieving greater efficiency and security.
Managed IT Benefits for Small Businesses
Here's how our managed IT services support small businesses like yours.
Support – When you call, we answer the phone with a smile. We have a process built in to keep you in the loop from the moment we learn about your problem until it's resolved.
Data Storage and Retrieval – Generally, we recommend moving data to the cloud for greater capacity, flexibility of access, and security.
Employee Onboarding – The technology experience that your new employees receive directly impacts your business inside and customer-facing. We set them up to run productively from day one and make sure they know how to get in touch with us for immediate assistance.
Identity Management – Keep your identity and clients' identity secure with our standard package. Secure management of identity for employees, external guests/vendors, and clients involves single-sign-on password management, MFA, and other measures that can be handled remotely.
Automation – Make sure the easy stuff is easy. And let technology do the work for you so your team can focus on growth.
Security – We can work with your C-suite team to create a cybersecurity plan.
Business Continuity – Keep your business operational during any type of disaster. Do you have more than one internet connection? Do you have a way to send email if Office 365 goes down? We can also perform an annual test to make sure your business does function when services are interrupted.
So, if you run an SMB, should you scrap your IT department?
If you have one, you might consider an outside technology consultant to audit your small business environment.
Alternatively, if you don't have an IT department, think about using an MSP to get more efficiency and better support.
In either case, make technology work for you.